Welcome!
Global Reads Reign!

Once a month, on the second Wednesday at 6:00pm, a group of Returned Peace Corps Volunteers (RPCVs) gathers to discuss the current book selection.  Anyone who wants to become a part of the reading groups is welcome.  Interested in joining us? Meetings are usually at member Marilyn Jaquish's Traverse City home, but please register or contact Marilyn (Phillippines 1964-66) at rpcv.nm@gmail. com for each month's meeting details.
January 10
Violeta by Isabel Allende (South America)
This sweeping novel from the New York Times bestselling author of A Long Petal of the Sea tells the epic story of Violeta del Valle, a woman whose life spans one hundred years and bears witness to the greatest upheavals of the twentieth century.
February 14
Take What You Can Carry by Gian Sardar (Kurdistan)
An aspiring photographer follows her dreams and faces her fears in a poignant novel about finding beauty, promise, and love amid the chaos of war-torn Kurdistan.
It's 1979. Olivia Murray, a secretary at a Los Angeles newspaper, is determined to become a photojournalist and make a difference with her work. When opportunity arrives, she seizes it, accompanying her Kurdish boyfriend, Delan, to northern Iraq for a family wedding, hoping to capture an image that lands her a job in the photo department. More important, though, the trip is a chance to understand Delan's childhood and bridge the differences of their pasts. Yet when the return home proves less safe than Delan believed, Olivia is confronted with a reality she had not expected and is awakened to the dangers of a town patrolled by Iraqi military under curfew and constant threat.
March 14
North to Paradise: A Memoir by Ousman Umar (Ghana and Africa)
The inspiring true story of one man's treacherous boyhood journey from a rural village in Ghana to the streets of Barcelona--and the path that led him home. Ousman Umar is a shaman's son born in a small village in Ghana. Though his mother died giving birth, he spent a contented childhood working the fields, setting traps in the jungle, and living off the land. Still, as strange and wondrous flying machines crisscrossed the skies overhead, Ousman dreamed of a different life. And so, when he was only twelve years old, he left his village and began what would be a five-year journey to Europe.
Every step of the way, as he traveled across the Sahara desert, through the daunting metropolises of Accra, Tripoli, Benghazi, and Casablanca, and over the Mediterranean Sea aboard a packed migrant dinghy, Ousman was handed off like merchandise by a loose network of smugglers and in the constant, foreboding company of "sinkers" other migrants who found themselves penniless and alone on their way north, unable to continue onward or return home.
But on a path rife with violence, exploitation, and racism, Ousman also encountered friendship, generosity, and hope. North to Paradise is a visceral true story about the stark realities of life along the most dangerous migrant route across Africa; it is also a portrait of extraordinary resilience in the face of unimaginable challenges, the beauty of kindness in strangers, and the power of giving back.
 
April 12
The Family Izquierdo by Ruben Degollado (Mexico)
A masterful debut that weaves together the lives of three generations of a Mexican American family bound by love, and a curse.
May 
A Train to Moscow by Elena Gorokhova (Russia)
In post-World War-II Russia, a girl must reconcile a tragic past with her hope for the future in this powerful and poignant novel about family secrets, passion and loss, perseverance and ambition.
June 
The Ardent Swarm by Yamen Manai (Tunisia)
From an award-winning Tunisian author comes a stirring allegory about a country in the aftermath of revolution and the power of a single quest.
Sidi lives a hermetic life as a bee whisperer, tending to his beloved "girls" on the outskirts of the desolate North African village of Nawa. He wakes one morning to find that something has attacked one of his beehives, brutally killing every inhabitant. Heartbroken, he soon learns that a mysterious swarm of vicious hornets committed the mass murder―but where did they come from, and how can he stop them? If he is going to unravel this mystery and save his bees from annihilation, Sidi must venture out into the village and then brave the big city and beyond in search of answers.
Along the way, he discovers a country and a people turned upside down by their new post–Arab Spring reality as Islamic fundamentalists seek to influence votes any way they can on the eve of the country's first democratic elections. To succeed in his quest, and find a glimmer of hope to protect all that he holds dear, Sidi will have to look further than he ever imagined.
 
July Time out!
August 
Everything Inside: Stories by Edwidge Dandicat (Haiti and the Carribean)
National Book Award finalist Dandicat uses eight short stories to dissect the family unit, diving into marriage, parenthood, and young love. The collection tests the strength of familial bonds as characters deal with tragedies of all sizes. Dandicat takes readers to her birthplace of Port-au-Prince, Haiti, as well as Miami and an unnamed part of the Carribbean in these narratives that probe the intersections of community, compassion and loss.
September 
We gather to discuss and select our reads for 2023-2024.
Check out some of our past book selections:
December 2021 Book Selection: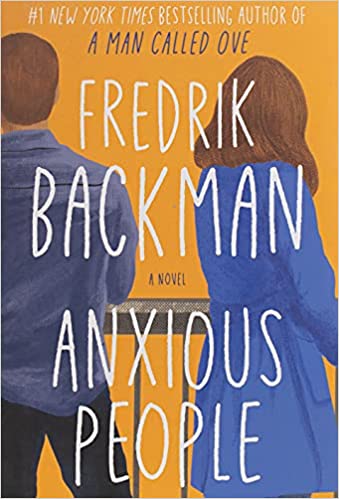 December Global Readers
Who says book clubs aren't fun?!  Small group but we had a great time discussing Anxious People (the wine helped!) but we actually spent quite a bit of time discussing the book which we all thoroughly enjoyed and needed during these stressful days.